This anthem, suitable for use as a communion motet or at the celebration of Harvest, sets the words of a Grace by the celebrated Dorset poet, William Barnes:
Lord, may we bless thee for these gifts of love,
Our food today, nor deem the gift too small;
And seek the bread that cometh from above,
The lifestay of the soul, the best of all. Amen.
It was written for the annual service of commemoration of Barnes's death, which is held each year in St Peter's Church, Dorchester, attended by members of the William Barnes Society.
The setting is for SATB choir and organ (or piano). The first section is for Sopranos, then the words and melody are repeated, harmonised in the choir (acappella ad lib).
A recording of the first performance, by St Peter's Church Choir and Louise Dukes (organ) on 8 October 2017, can be heard below: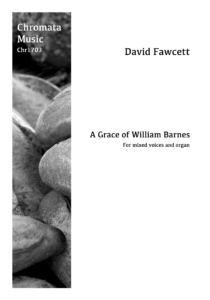 Pre-printed: The publication by Chromata Music is presented in Octavo format, 8pp (4pp music), printed on quality paper: 1-4 copies: £1.50 each  /  5-15 copies: £1.35 each  /  16-30 copies: £1.28 each  /  31-50 copies: £1.20 each  /  51+ copies: £1.13 each
PrintYourOwn: Alternatively, you can purchase a licence and PDF download from which you can make your own copies (minimum 20 copies), at a cost of £0.90 per licensed copy.
To enquire about placing an order, or for further information, contact David via this form.