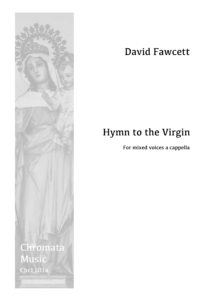 The words of this carol/motet are well-known from Britten's work of the same name, but that double-choir setting is out of the reach of most church choirs. The powerful, devotional text, alternating English and Latin in the style of medieval carols, warrants an additional, simpler setting.
This best-selling work, now in its third edition, is suitable for concert performance, as well as for liturgical use during Advent, at Christmas or on feasts of the Blessed Virgin Mary.
This setting is available from Chromata Music in two separate versions, each using the same melodic material across its three verses:
for acappella SATB without divisi  (Chr1101a)
for SA with organ accompaniment and links between the verses  (Chr1101b)
The SATB version can be heard in the video:
and the SA and organ version here:
Pre-printed: Both versions are published by Chromata Music. The SA version comprises 4 A4 pages, printed on 135gsm coated paper. The SATB version has been attractively reissued in Octavo format (272 x 190 mm) and printed on quality paper: 1-4 copies: £1.00 each  /  5-15 copies: £0.90 each  /  16-30 copies: £0.85 each  /  31-50 copies: £0.80 each  /  51+ copies: £0.75 each
PrintYourOwn: Alternatively, you can purchase a licence and PDF download from which you can make your own copies (minimum 20 copies), at a cost of £0.70 per licensed copy. 
To enquire about placing an order, or for any further information, please contact David using this form.
Customers in North America can now inspect and purchase this work through the US distributor, Swirly Music.