This setting of the Evensong canticles reflects back with affectionate nostalgia to the settings David sang in his boyhood, by composers such as Stanford, Sumsion and Darke. It is dedicated to his choirmaster at the time, Philip Ainsworth, who at Gainsborough Parish Church introduced a generation of choristers to a wide range of church music.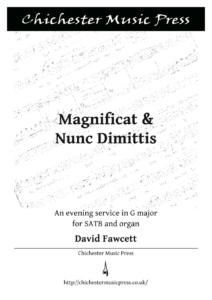 Set for SATB without divisi, it is suitable both for established choirs who want to add a new setting to their repertoire that won't take up too much time to learn, or for smaller choirs who want a new challenge. The organ part with its ostinati adds texture and interest to the strong melodies and warm harmonies of the voices.
In July 2015, the canticles received their cathedral premiere in London's St Paul's Cathedral, and they have since been heard in Wells, Worcester, Norwich, Sheffield and Portsmouth Cathedrals. Their US premiere was given in the Episcopal Church of St Francis, San Francisco in September 2015, and they are also in use at the Cathedral of St Paul, London, Ontario, Canada and elsewhere in North America and Europe.
You can hear a performance of the canticles in the video below. It is sung by the London chamber choir, Quorum, conducted by the composer and with Derek Carden on the organ. The video also says more about the personal history behind the work.
The Magnificat and Nunc Dimittis in G is published by Chichester Music Press, in a 16pp booklet priced at £2.95. The scoring can be inspected on the CMP website before you buy.