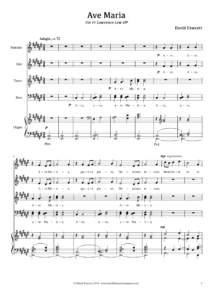 This setting of the famous prayer to the Blessed Virgin Mary started life as a motet for three-part choir and organ. In that form it won the Singers Prize at the Small Choirs Festival in London in 2013, being chosen by most singers present as their favourite out of those showcased that day.
In this new larger choir form, published for the first time by Chromata Music, it exploits the richness of divisi SATB choir (mostly in thirds), while retaining its underlying simplicity. No competent choir with sufficient voices would be over-stretched by it, and the strong melodies and calm, slow harmonic rhythm makes it an easy piece to learn, remember and enjoy – an instant favourite of choirs that are introduced to it and congregations or audiences who hear it. Suitable for both church and concert use, it is just over 3 minutes long, and the organ accompaniment can be replaced to good effect by piano where preferred.
A recording of the piece in rehearsal by Chromata Voices of Purbeck (with piano accompaniment) can be heard in the video:
Pre-printed: The publication by Chromata Music is presented in A4 format, 8pp, printed on matt coated 135gsm paper:  1-4 copies: £1.50 each  /  5-15 copies: £1.35 each  /  16-30 copies: £1.28 each  /  31-50 copies: £1.20 each  /  51+ copies: £1.13 each
PrintYourOwn: Alternatively, you can purchase a licence and PDF download from which you can make your own copies (minimum 20 copies), at a cost of £1.00 per licensed copy. 
To enquire about placing an order, or for further information, please contact David via this form.