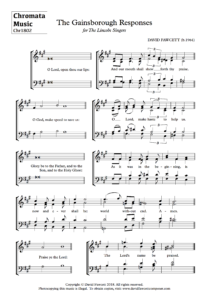 This setting of the Preces and Responses, for use during the choral services of Mattins and Evensong, was commissioned for The Lincoln Singers.
The Lincoln Singers acts as a visiting voluntary choir in cathedrals and other major churches, supplying the sung services when the resident choir is on holiday. It was an early champion of David Fawcett's Magnificat and Nunc Dimittis in G, and has so far taken those canticles to Sheffield, Norwich and Worcester Cathedrals.
The Gainsborough Responses were first sung by The Lincoln Singers in Southwell Minster on 4 November 2018, and again by them at Evensong on 28 April 2019 in All Saints Parish Church, Gainsborough, Lincolnshire, where David Fawcett as a teenager was Head Chorister and Organ Scholar. They have also been used by other choirs in St Alban's, Wells and Exeter Cathedrals, and were selected to be sung at St Pancras Parish Church, London, as part of the 2022 London Festival of Contemporary Church Music – the recording of which can be heard via the LFCCM website.
This is an attractive and reflective set of Responses, scored for SATB choir with only occasional divisi. It includes a choral setting of the 'Our Father'.
The whole set of Responses can be heard in this recording, in rehearsal, by The Orlando Singers.
The Gainsborough Responses were published in April 2018 and proved instantly popular, with sets acquired by nine choirs within a day of release. They provide a new and highly accessible source of variety for any choir that regular sings Mattins or Evensong.
Pre-printed: Published by Chromata Music (Chr1802), on four pages in Octavo format (272 x 190 mm), printed on quality paper: 1-4 copies: £1.20 each  /  5-15 copies: £1.08 each  /  16-30 copies: £1.02 each  /  31-50 copies: £0.96 each  /  51+ copies: £0.90 each
PrintYourOwn: Alternatively, you can purchase a licence and PDF download from which you can make your own copies (minimum 20 copies), at a cost of £0.80 per licensed copy.
To enquire about placing an order, or for any further information, contact David via this form.