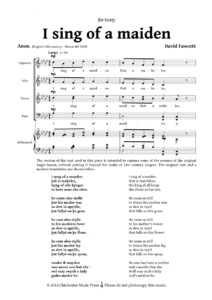 These famous words have been set by many composers in many different ways. This setting for mixed voices a cappella uses a rich sonority of harmony to reflect both, within, the intensely intimate nature of the text and, without, the warmth of our own adoration of the Blessed Virgin and her Son.
The work was first performed by the Birmingham Conservatoire Camerata, conducted by Nicola Starkie, at a service at St Philip's Cathedral, Birmingham, in December 2014.
It is available from Chichester Music Press, priced at £1.20 a copy, and can be heard in the video:
For further information, contact David using this form.