This anthem was commissioned by Mike Wooldridge in memory of Gwyneth Thomas and for the choir of Holy Trinity, Headington Quarry, Oxfordshire.
Its text is selected from the poem 'Light' by George MacDonald (1824-1905):
Word infinite in meaning: God is light.
We walk in mystery all the shining day
Of light unfathomed that bestows our seeing,
Unknown its source, unknown its ebb and flow:
Thy living light's eternal fountain play
In ceaseless rainbow pulse bestows our being,
Its motions, whence or whither, who shall know?
O Light, if I had said all I could say
Of thy essential glory and thy might,
Something within my heart unsaid yet lay,
And there for lack of words unsaid must stay:
God is light.
The anthem is suitable for liturgical use in seasons where light is a theme (Advent, Candlemas, The Transfiguration, Easter etc.) or for concert performance.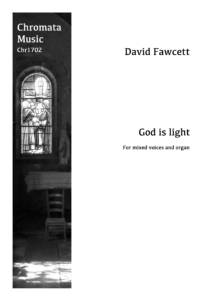 Pre-printed: Supplied in Octavo format from Chromata Music, printed on quality paper: 1-4 copies: £1.50 each  /  5-15 copies: £1.35 each  /  16-30 copies: £1.28 each  /  31-50 copies: £1.20 each  /  51+ copies: £1.13 each
PrintYourOwn: Alternatively, you can purchase a licence and PDF download from which you can make your own copies (minimum 20 copies), at a cost of £1.00 per licensed copy. 
To enquire about placing an order, or further information, contact David via this form.