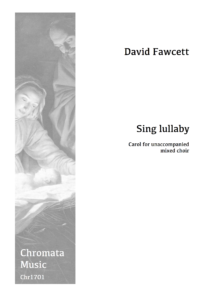 This setting of words by Rev. Sabine Baring-Gould (1834-1924) is for unaccompanied SATB choir without divisi.
Its four verses reflect on four phases of Christ's life – as an infant in the manger watched over by the angels, in grief and sorrow, at his crucifixion and in his Easter triumph over death. The lullaby refrain is a bittersweet reflection on all that is to come for the Infant King.
The work is suitable for concert performance, as well as for liturgical use during Christmastide.
It can be heard in rehearsal, and the score can be followed, in the video below:
Pre-printed: The piece is available from Chromata Music in an 12pp booklet (9pp of music) in Octavo format (272x190mm), printed by on good quality stock. A piano reduction is included for rehearsal: 1-4 copies: £2.00 each  /  5-15 copies: £1.80 each  /  16-30 copies: £1.70 each  /  31-50 copies: £1.60 each  /  51+ copies: £1.50 each
PrintYourOwn: Alternatively, you can purchase a licence and PDF download from which you can make your own copies (minimum 20 copies), at a cost of £1.30 per licensed copy. 
To enquire about placing an order, or for further information, contact David using this form.