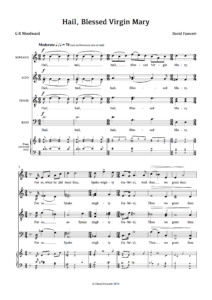 These traditional carol words have been set in dramatic fashion, for SATB choir with divisi.
One of a set of Three Marian Carols (alongside The Angel Gabriel and Sweet was the song the Virgin sang), this is a challenging piece for an accomplished choir, and would suit both a dramatic slot in a carol service or a concert performance.
The work was first performed in December 2016, in the Festival of Nine Lessons and carols of St Paul's Cathedral, London, Ontario, Canada. 
An idea of how it sounds can be heard in this synthesised representation via Sibelius 7:
Pre-printed: The publication by Chromata Music is presented in A4 format, 8pp, printed on matt coated 135gsm paper: 1-4 copies: £1.60 each  /  5-15 copies: £1.44 each  /  16-30 copies: £1.36 each  /  31-50 copies: £1.28 each  /  51+ copies: £1.20 each
PrintYourOwn: Alternatively, you can purchase a licence and PDF download from which you can make your own copies (minimum 20 copies), at a cost of £1.00 per licensed copy. 
To enquire about placing an order, or for any further information, please contact David using this form.