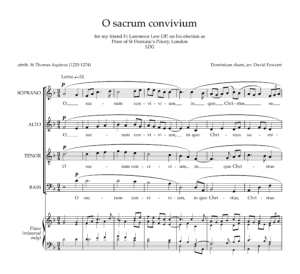 This setting of a traditional Communion text attributed to St Thomas Aquinas was written to mark the election of Fr Lawrence Lew OP as Prior of St Dominic's Priory in London.
The motet elaborates the original plainsong chant as used in the Dominican rite.
A realisation of the motet can be heard in the video below, compared to the original plainsong melody.
Pre-printed: This edition by Chromata Music is in Octavo format, four pages long, printed on quality paper: 1-4 copies: £1.10 each / 5-15 copies: £0.99 each / 16-30 copies: £0.94 each / 31-50 copies: £0.88 each / 51+ copies: £0.83 each
PrintYourOwn: Alternatively, you can purchase a licence and PDF download (A4 format) from which you can make your own copies (minimum 20 copies), at a cost of £0.70 per licensed copy.