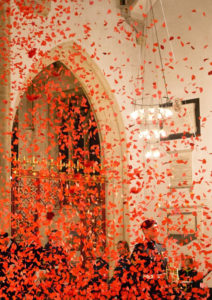 This Remembrance anthem was the winning entry in the 2018 St Edmundsbury Cathedral / RA Vestey Memorial Trust Composition Competition. Composers were challenged to set a poem by William Noel Hodgson MC, son of the first Bishop of St Edmundsbury and Ipswich, who was killed on the first day of the Battle of the Somme in 1916.
The anthem was first performed by the Cathedral Choir at a major service of commemoration of the end of the First World War, 'Eve of Peace', which took place in the Cathedral on 7 November 2018, in the presence of the Lord Lieutenant of Suffolk, civic dignitaries and representatives of the armed forces and Royal British Legion. The performance was conducted by James Thomas, with Alexander Binns playing the organ, and can be heard in this recording.
Duration: 4:25
Pre-printed: This work is published by Chromata Music as an 8pp Octavo booklet (272x190mm): 1-4 copies: £1.60 each  /  5-15 copies: £1.44 each  /  16-30 copies: £1.36 each  /  31-50 copies: £1.28 each  /  51+ copies: £1.20 each
PrintYourOwn: Alternatively, you can purchase a licence and PDF download from which you can make your own copies (minimum 20 copies), at a cost of £1.00 per licensed copy. 
To enquire about placing an order, or for any further information, please contact David using this form.