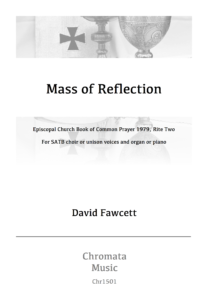 Mass of Reflection is a setting of the Holy Eucharist, available in two versions, to fit two distinct liturgies:
Common Worship Order One (Church of England)
BCP 1979 Rite Two (US Episcopal Church)
Intended primarily for use in churches where congregation and choir sing the service together, it could be used by congregation alone, as the melody line does not rise high. Ideally, though, an SATB choir of moderate ability would add the warm harmonies in sections which complement the unison passages.
There are musical settings of the Kyrie (Lord have mercy), Gloria (Glory to God in the highest), Sursum Corda (The Lord be with you / The Lord is here), Sanctus & Benedictus (Holy, holy, holy & Blessed is he), four alternative Eucharistic Acclamations plus the Final Acclamation from the CW liturgy (Blessing and honour), Agnus Dei (Lamb of God), Final Amen and Dismissal.
The overall style is reflective, as suggested by the title. But the title also refers to the fact that the Gloria opens with a theme familiar to anyone who has used John Merbecke's traditional setting, and this intonation motif returns elsewhere in the setting, so 'reflecting' a work of musical heritage well known to many.
This sample page of the Sanctus & Benedictus will give an idea of the material and textures in the Mass.
Recordings of the Gloria and Agnus Dei in rehearsal (with piano) can be heard in the video:
Pre-printed: The Common Worship setting is available from Chromata Music, in a 16pp octavo choral leaflet: 1-4 copies: £2.40 each  /  5-15 copies: £2.16 each  /  16-30 copies: £2.04 each  /  31-50 copies: £1.92 each  /  51+ copies: £1.80 each
PrintYourOwn: Alternatively, you can purchase a licence and PDF download from which you can make your own copies (minimum 20 copies), at a cost of £1.80 per licensed copy.
A melody edition for use with congregations is available either as a printed 8pp A5 booklet (priced at £40 per 100 copies), or as a licensed download (priced at £40 per church).
To enquire about ordering copies, or for further information, contact David via this form.
The BCP 1979 setting is available in the USA from Swirly Music, either as printed copies or as a licensed download, again with a melody edition for use with congregations. Visit the Swirly website to read through the whole score, and for pricing details.